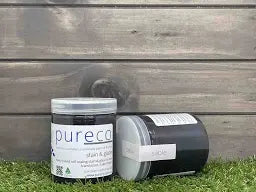 Furnishin Designs
Pureco Stain & Glaze - Sable
Regular price
$27.00
$0.00
Unit price
per
PURECO Stain & Glaze Sable 200ml is a staining and glazing solution that can give your furniture a slightly darker wood color. This is a water-based solution that will help preserve the grain of your furniture or project while enhancing the color of the wood to make it look more appealing. It is specifically formulated to add sheen and glaze effect on any surface making it more eye-catching.
PURECO Stain & Glaze is an Australian made product and is specifically designed to quickly penetrate through the wood and other surfaces and become part of it. This allows the formula to better accentuate the grain of your wood or the surface. However, aside from enhancing the appearance, it is formulated to provide adequate protection to the surface of your projects. This product dries to a durable matte finish, which is also waterproof and scratch resistant.
PURECO Stain & Glaze is quite easy to use, as it required only a paint brush and damp cloth to create that perfect look. It also has a translucent appearance, which means that you can apply multiple layers to create a more opaque finish. Like other PURECO Products, this is made from premium grade and safe materials. It is product safe and have zero to low VOC's, Cruelty-Free, Non-Toxic, and Solvent Free, which means that it is eco-friend and does not contain any ingredient that has harmful health effects.
PURECO Stain & Glaze Sable 200ml can be used on painted surfaces, as well as directly on wood. This product is ideal for tabletops, wooden floors, kitchen units, wooden chairs, cabinets, dressers, and more! In addition, this product is self-sealing, which means that a sealer is not required and that you will only apply a sealer if you desired.
---