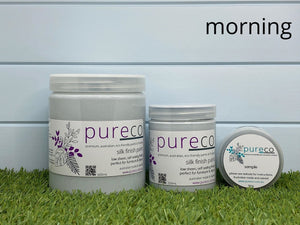 Furnishin Designs
Pureco Morning - silk 600mls
Regular price
$42.00
$0.00
Unit price
per
Pureco Silk Finish Paint is a velvety smooth, all-in-one mineral paint that does not require sealing, however for high use surfaces/pieces I personally recommend a sealer. Pureco products are Australian made in Newcastle NSW, eco-friendly certified, VOC (Volatile Organic Compound) free, water-based, non-toxic, child safe, solvent free, cruelty free and are water clean-up. The mineral paint range (silk) is a low sheen satin finish that's easy to clean and stain-resistant. 7-14 cay cure time - please note cure time is dependent on the environmental conditions.
Pureco Mineral Paints are easy to use and can be applied to a wide range of surfaces including wood, metal, glass, ceramic, plastic, and even fabric. The paint can be applied with a brush, roller, or sprayed. If spraying, thin with water, as necessary. Pureco products can be thinned by up to 30%. Quick-drying time 30 min – 1hr, re-coat in 2 hours. In most cases, 2 coats are all you need however for brights and whites 3-4 coats may be required over some substrates.
Covers approximately 11 square meters per 1L. 200ml will cover approx. 2-3 square meters and 600ml will cover approx. 7-8 square meters in normal conditions. Compatible with the complete range of Pureco products - excluding beeswax polish.
How to use: For best results always clean the surface prior to painting with hot soapy water. We strongly recommend scruff sanding with 80grit sandpaper to give the surface tooth and apply one coat of PURECO BASE & BLOCKER to further help with adhesion - not all pieces will need BASE & BLOCKER, assess on a case by case basis. Applying 1 coat of PURECO BASE & BLOCKER over dark surfaces prior to paint with Whites & Brights will reduce the number of coats of Silk Finish needed. Always STIR your paint well, ensure the brush/roller or sprayer is clean and ready for use. Apply 2-4 coats, in most cases, 2 coats are all you need. Sanding between coats is completely optional to help smooth brush strokes, Pureco Silk Finish self-levels, using a high-quality synthetic brush will help minimise brush mark – as well as a fine mist spray of water on your last coat. Pureco Silk Finish has a built-in sealer as such there is no need to further seal unless desired.
---