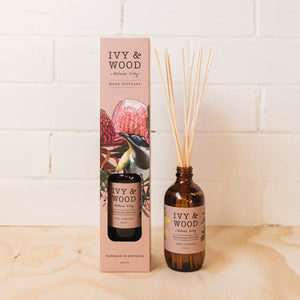 Furnishin Designs
Ivy and Wood Diffuser- Australian Florals
Regular price
$39.95
$0.00
Unit price
per
This fragrance is a blend of beautiful Australian floral scents, Frangipani, Banksia and Boronia with sweet Rose and honey top notes. It also includes hints of cyclamen, star jasmine and an herbal orchid, green finish.
Key notes: Frangipani | Banksia | Boronia | Sweet Rose | Honey
The Australiana Collection celebrates our stunning, unique native flora and fauna and features illustrations by talented local Brisbane artist, Melanie Kilby. 

Comes packaged in a beautiful box, perfect for gifting! Our packaging is designed and printed in Brisbane and is fully recyclable.
About Ivy & Wood reed diffusers
Ivy & Wood reed diffusers provide the same gorgeous scents as your favourite Ivy & Wood candles without the flame. These amber glass beauties will scent your room 24 hours a day and last for 6-12 months so they are great value for money.
Slow releasing and long lasting, our reed diffusers are made with carefully blended high quality fragrance oils and pure essential oils in a wide variety of delicious scents. 
Instructions for use
Simply remove the screw top and place your reeds inside the jar. Position on a flat surface out of reach of children or pets and away from a risk of being knocked over.
Turn your reeds around weekly for an extra burst of fragrance (being careful not to spill on your furniture) or use less reeds for a more subtle room fragrance.
---