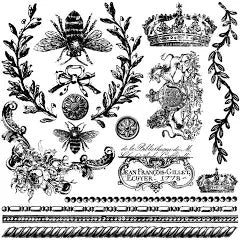 Furnishin Designs
Iron Orchid Designs 'Queen Bee' decor stamp
Regular price
$53.00
$0.00
Unit price
per
QUEEN BEE IOD STAMP 12×12 - IRON ORCHID DESIGNS STAMP
Queen Bee IOD Stamp is designed to add a royal feel to your piece or furniture. This versatile DIY stamp will let your create a crest-like ensemble for your dresser or highboy, or an exquisite trim for your china hutch. Like the other stamps in this collection, what makes this unique is that it is designed in scale and motif, making them perfect for creative unique, stunning décors for your home or for important events such as birthdays, weddings, retirement parties, etc. You can even use them as perfect letter stamp adornments for jewelries and culinary creations.
Queen Bee Iron Orchid Designs Stamp is suitable to use for different stamping techniques including masking, clay impressions and paint texture creation. It is perfect for using in a wide range of applications and surfaces such as fabric, ceramics, floors, walls, wood and even sugar arts. It is also a perfect match for a wide range of mediums including ink, paint, edible paste gel and embossing powder.
IOD Queen Bee Stamp, just like the other IOD Stamps, can be used in different ways. You can mount them on a décor block, or you can use them freestyle, which would mean using the plastic sheet that comes with them. You may even use them directly, without any mount if desired. Just like the other stamps in this collection, this is made from high quality material, making them them quite sturdy, so there's no need to worry if you exert a little bit of force when removing them from their backings.
How to Apply:
If first time use, make sure to condition the stamps. Remember, you only need this when you first open the stamps. This will stabilize the medium on the surface and give you a cleạnėr impression. Use a fine sạnding block to lightly sạnd in two directions to create micro textures.

Next is to mount the furniture stamp on thin mount sheets. One way is to cut apart the sheet so that each will stay at the portion of the backing and use as individual pieces. Some people will find this a little challenging to store these stamps. But you can also do without cutting the stamps in individual pieces.

Make sure that the back of the stamp and the thin mount sheets are both clean and dry.

Place the design facing downward and when you are happy with the placement, cover with the thin mount's and make sure the stamp sticks to the mount.

Get your ínkpad and apply décor ink on it. Make sure that the ink is applied all throughout the ínkpad.

Pat the ínkpad lightly on the surface of the stamp, until the design is entirely covered with ink.

Place the stamp on to the desired surface and use one hand to hold it steady, which the other hand to gently run over the surface.

Lift the stamp gently and check your work. Take note that IOD décor ínks usually dry in about 10 minutes.

To clean the stamp, you may use a tissue if using it again immediately. If you are using it for another time, then you may use warm, soapy water to remove the ínk.


---