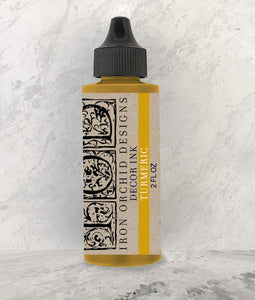 Furnishin Designs
IRON ORCHID DESIGNS INK - TURMERIC
Regular price
$29.00
$0.00
Unit price
per
Have fun adding texture to your projects with our Iron Orchid Designs Decor Ink – Turmeric.
Our Décor ink works fabulously with the Décor Stamps as well. Ink gives finer detail and tends to be a little more translucent than paint, keep this in mind in consideration to your project. We find that we like using paint and ink equally, and they lend themselves well to different projects and surfaces. We recommend using the blank stamp pads to apply the ink (one for each colour), then pat the surface of the stamp with it.
SURFACES AND APPLICATIONS
Fabric: When stamping fabric a load of the medium should be generous in order to penetrate the fibres, and the look will be different with different levels of fabric texture. Décor ink, Chalk paint and other fabric suitable mediums work well. It is our opinion that the ideal fabric for permanent washables is 100 per cent cotton. However, blends and some other natural fibres can sometimes work as well. Do a small test to be sure. Allow your newly stamped fabric to dry/cure for a minimum of 24 hours, then heat set with an iron on high heat before washing.
Furniture: Both on painted and stained furniture you can use the Decor Ink.
Measurement:  Comes in a 2 oz Bottle
---