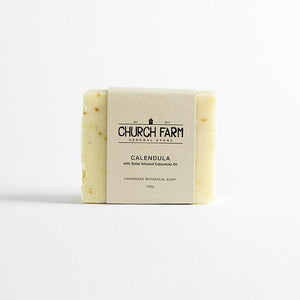 Furnishin Designs
Church Farm Soap - Calendula
Regular price
$9.50
$0.00
Unit price
per
Calendula is best known for its natural anti-inflammatory, anti-bacterial and soothing effects and is considered a very effective herbal remedy for skin problems such as rashes, scratches, chapped skin, damaged skin and eczema.
To make this bar, calendula flowers are solar infused (via the sun) into olive oil, which is then used to make the soap, ensuring the maximum benefit of the calendula flowers. This bar is unscented and suitable for sensitive skin, including children and babies.
Ingredients: Australian Extra Virgin Olive Oil, Cold Pressed Coconut Oil, Water, Lye, Calendula Infused Oil, Calendula Petals
Note: As each bar is handcut the shape and appearance may differ from what is shown in the picture, however all bars weigh approx 180g.
For longer lasting soap, please keep your bars dry and in a well drained position in-between uses and away from direct streams of running water.
Why we love Church Farm botanical soaps
Palm oil free & vegan

Made with Australian extra virgin olive oil and cold pressed coconut oil, natural Australian clays and charcoal, organic essential oils, organic dried botanicals (some from our farm) and other local plant oils such as hemp seed, almond, and macadamia which all have amazing benefits for the skin.

Made with herbal infusions. 

 

These are organic botanicals steeped in olive oil and left to infuse, which extracts the natural therapeutic benefits out of the herbs and transfers them into the oil. 

 

This oil is then used in the soap

Handmade using the traditional cold processed method, with each bar having a 4-6 week curing time which results in a mild and gentle soap bar

Contain NO synthetic fragrances, artificial colours, preservatives, refined vegetable oils or nasty ingredients

Gentle enough for sensitive skin (especially the Calendula bar which is made with infused calendula oil and contains no essential oils for the extra sensitive)

Recipes created by Amanda Callan, who has a background in herbal medicine and naturopathy
About Church Farm General Store
Church Farm General Store was co-founded back in 2013 by Andrew Morris and Amanda Callan, who live in an old timber church in Billinudgel in northern NSW with their two son's Banjo and Percy.
They began crafting their soaps by hand using ingredients from their church garden and as their business has grown, they now have a team of good humans making their products by hand and with love. 
---